Meet Dr. Healey & His Team
Meet Dr. Matthew Healey
Dr. Matthew Healey grew up on the South Shore, where he developed an early interest in dentistry. After he graduated from Duxbury High School, he attained his Bachelor of Science degree in chemistry at Stonehill College near Boston. He then went on to earn his Doctorate of Medical Dentistry degree from Boston University Goldman School of Dental Medicine. Following graduation, Dr. Healey completed an Advanced Education in General Dentistry (AEGD) residency at Temple University School of Dentistry in Philadelphia, Pennsylvania. This post-graduate work expanded Dr. Healey's knowledge and skills in various dental specialties.
As part of his efforts to continue providing excellent and comfortable dental care, Dr. Healey has added oral conscious sedation to his practice. This option is especially beneficial for patients who feel anxious or fearful about dental treatment. Dr. Healey obtained his sedation training at the Montefiore Medical Center, where he completed a hospital-based clinical program that is part of the Albert Einstein College of Medicine. Dr. Healey has also studied with the Dental Organization for Conscious Sedation (DOCS). All this continuing education has helped Dr. Healey transform the experience of going to the dentist. Visits at his office are safe and relaxing, and all patients are treated with respect while they get the smile they deserve.
Dr. Healey has achieved Fellowship status in the Academy of General Dentistry (FAGD), followed by Mastership in the Academy (MAGD). His other professional memberships include the American Dental Association (ADA) and the Massachusetts Dental Society.
In his free time, Dr. Healey coaches his boys' basketball, baseball, and track and field teams. He looks forward to getting to know you and your family, too!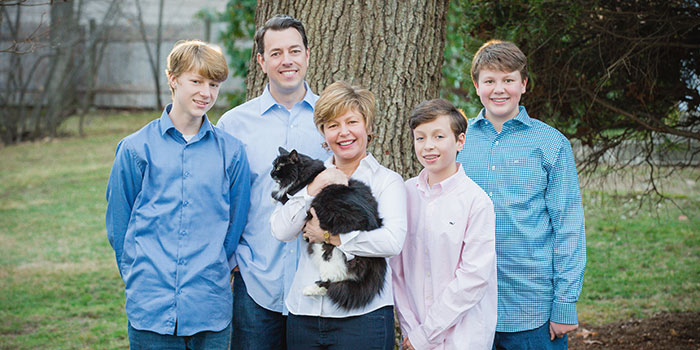 Meet Our Staff
Therese, RDH
Therese joined our team in July of 2015 and brings over 20 years experience as a registered dental hygienist. Therese enjoys meeting new patients and forging relationships with them, educating patients about dental health, and helping patients with their dental needs. She prides herself in her gentle touch. She graduated from Quinsigamond Community College in Worcester with a degree in dental hygiene and maintains advanced training through continuing education. In her free time, she enjoys being outdoors, reading, and spending time with her husband and three grown children.
Kathie, RDH
Kathie has been a registered dental hygienist for 30 years. She has a degree in dental hygiene from Middlesex as well as a certification to administer local anesthesia from Mt. Ida College. Kathie's passion for dental health is evident in her professionalism, clinical expertise, and compassion with her patients, many of whom have developed long-term relationships with her. Kathie enjoys reading, Van Morrison concerts in Belfast, traveling, gardening, and snow!
Deb, CDA
Deb graduated from Middlesex Community College with an associates degree in science along with certification in dental assisting. Deb's primary responsibility at Dr. Healey's is to work with him chairside during your treatment. She brings compassion and comfort to all their patients. Whether you need a smile or a hand to hold, Deb will always be there for you. Deb enjoys going to the beach, kayaking, and spending time with her family, especially her grandchildren.
Michelle, CDA
A native of Billerica, Michelle graduated from Shawsheen Valley Technical High School and received her dental training at Bryman Institute. Michelle strives to build relationships with her patients and finds their trust very important and rewarding. Going to work every day is a new experience and another opportunity to ensure her patients feel comfortable and leave happy. When not assisting Dr. Healey, you can find Michelle at the front desk or in the lab. In her spare time, Michelle likes to cook, travel, and spend time with her husband and two daughters.
Hazel, Patient Coordinator
Hazel is the first person you will meet upon arriving at our practice. She will greet you with a friendly smile and warm welcome. Hazel enjoys building friendly relationships with all the patients that visit the office. Hazel will take care of your appointments, insurance, and financial arrangements. She has been in the dental field for 15+ years and can answer any questions or concerns you may have. In her free time, Hazel enjoys vacationing, playing with her dogs, and spending time with her family and wonderful grandchildren.